Graceland finally premiered last night! It's an interesting concept to have a bunch of federal agents (who all seem to be good looking for some reason) living in a house together but who all have secrets they are keeping from each other. Serinda Swan who plays Paige Arkin on the show says, "You really start to see how that [the secrets] trickles down and how it gets intertwined, and it becomes this kind of rotted, like gnarled, mess." Cool!
The pilot was slow and set the foundation for the season to go off of, but we did get to see Mike Warren work on a case right off the bat! When he first moves into the house, he is met with resentment, snobbery, and hazing, but that luckily doesn't last very long. When Mike then has to jump into deep undercover work, the gang, including the two women in the house, FBI agent Catherine DeMarco and DEA agent Paige Arkin, help him out! Besides this one case, it seems like there is a bigger story that will have a conclusion or another piece revealed by the end of the season! Can't wait!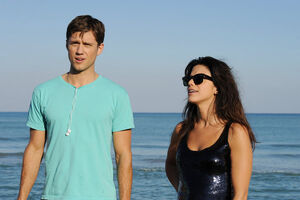 As for what critics have to say about this show, Mary McNamara of LA Times says, ""Graceland" is an entertaining addition to a strong summer lineup in which attractive people trade witty banter and engage in serious work that provides good clean episodic fun while teaching the main characters the importance of love and loyalty. And what's wrong with that? Nothing at all. A show doesn't need an R rating to be good television."
David Hinckley also gives praise, saying, "It feels promising as television, and several characters besides Warren and Briggs — including a DEA agent played by Serinda Swan, switching sides after "Breakout Kings" — have the potential to make us care about their stories."
What did you think of the premiere? Is this a summer show that you'll keep watching? Share your opinion in the comments below!
Sources:
Yahoo
LA Times
NY Daily News
What did you think of the first episode?
---
---
Ad blocker interference detected!
Wikia is a free-to-use site that makes money from advertising. We have a modified experience for viewers using ad blockers

Wikia is not accessible if you've made further modifications. Remove the custom ad blocker rule(s) and the page will load as expected.