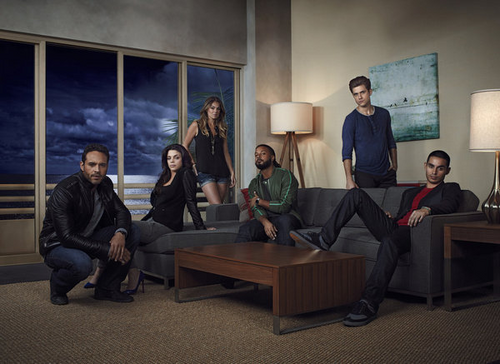 USA is bringing out a new show this summer called Graceland that follows a group of diverse agents - from the Drug Enforcement Agency (DEA), Federal Bureau of Investigations (FBI) and U.S. Customs - who are forced to live together in an undercover beach house in Southern California. This is apparently based off a true story (crazy!) but it will probably go off in a different direction than the true story. Graceland has an interesting premise, and we're excited to see how Aaron Tveit and Daniel Sunjata are going to work together!
The first 5 minutes of the episode are already available on USA's website, but the pilot won't be on until June 6! For now, let's make our predictions based on teasers and the sneak preview. Check it out below and be sure to add your own predictions in the comments!
Mike Warren and Paul Briggs are probably going to have some mentor-student tension between them. Mike is the rookie agent while Paul is the experienced hero and all Mike wants to do is prove himself, especially since he graduated at the top of his class.
I'm expecting a lot of undercover work from these agents and the perils that come from going in too deep. In the first 5 minutes, we already saw that it's dangerous work!
With so many different personalities, there's going to be a lot of fighting, relationships growing, and probably someone breaking.
The first episode will probably give us a little insight into each agent's background and will set up relationships in the series. We already know that we're getting hot-tempered characters like Charlie Lopez and Dale Jakes, but we're calling it: a romance is going to happen between Paige Arkin and Mike!
So what predictions do you have about Graceland? Share them in the comments below!
Will you be watching the premiere?
---
---
Ad blocker interference detected!
Wikia is a free-to-use site that makes money from advertising. We have a modified experience for viewers using ad blockers

Wikia is not accessible if you've made further modifications. Remove the custom ad blocker rule(s) and the page will load as expected.