"I'm just saying a little more "O" mouth would sell the euphoria, babe."
―Briggs, referring to the face Charlie makes as she simulates shooting up.
Complete Synopsis (with spoilers)
Edit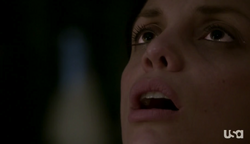 Briggs and Charlie have made contact with a dealer named Quinn, using old identities from a time when they were lovers, and plan to use Quinn to get to a larger dealer named Odin. Charlie's unreliable former informant Whistler knows Quinn; they first avoid him to avoid being exposed, but are eventually forced to use Whistler to vouch for them. Meanwhile, Mike demands to see the basis for the FBI's suspicion of Briggs, and learns that Briggs was once an addict and now appears to be skimming a portion of the heroin seized in cases. He resolves to gain Bello's confidence to set up a large seizure and test Briggs' honesty, and finally succeeds in becoming Bello's personal bodyguard.
Guest Starring
Edit
Co-Starring
Edit
Devon Dassaw as Randall
Amy Locicero as Marsha
Alex Zuko as Seth
Ad blocker interference detected!
Wikia is a free-to-use site that makes money from advertising. We have a modified experience for viewers using ad blockers

Wikia is not accessible if you've made further modifications. Remove the custom ad blocker rule(s) and the page will load as expected.